Radon Testing
Radon Testing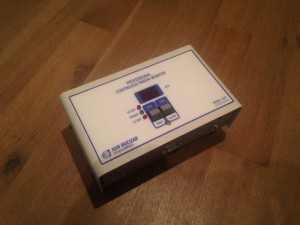 Gingles Inspections performs short term Radon tests for your convenience.  We use a Continuous Radon Monitor to perform these short term tests.  Short term Radon tests take 48 hours and the results are available at the conclusion of the test.
Why Should I Have My Home Tested For Radon?
Radon is the number one cause of lung cancer among non-smokers.  Overall, Radon is the second leading cause of lung cancer according to The EPA.  This alone is enough to have your home tested.
Why Is Radon In My Home?
Radon occurs naturally in our environment and comes from the decay of Uranium in rock and soil.  Radon enters the home through any sump pit, crevice, crack, or opening in your homes foundation.  The amount of Radon that enters the living space depends solely on the concentration of the gas found beneath the home.  Not having your home tested and assuming that keeping a basement window open will keep Radon levels low is risky.  Opening a window may create a flue effect and result in more Radon entering the home.
How Much Radon Is In My Home?
The only way to really know how much Radon is accumulating in your home is to have it tested.  Testing is easy and can give provide an overall picture of an average Radon concentration found in the home.  As mentioned earlier, the amount of Radon that enters the home is dependent on the concentration of Radon below the house.  Concentrations of Radon may vary greatly by geography and land layout.  Don't be the victim of the assumption that a neighborhood that typically tests low for Radon means that your home is safe.  Testing is the only way to find out.
How Much Radon Is Too Much Radon?
The EPA recommends Radon mitigation when the average of a short term test (48 hours) is 4.0 pCi/L or greater.  Congress set the natural outdoor level of radon gas of (0.4 pCi/L) as the target radon level for indoor radon levels.  Radon levels below the EPA's action level (4.0 pCi/L) still pose some risk for lung cancer.
What Can Be Done?
Radon mitigation is effective.  Some mitigation systems can reduce Radon concentrations in the home by 99%!  Mitigation consists of directing all the Radon gas to a location where it is then pumped out of the house via a fan and piping.  Mitigation systems and techniques vary by home construction and style.
Licensing Information.
Missouri has no licensing for Radon Measurement technicians however, Kansas has extensive requirements to perform these tests.  The professionals who achieve Kansas certification have the education, experience, integrity to perform consistent, quality testing.
Our Kansas Radon Measurement Technician Certification number is KS-MS-0252
More Information.
For more information about Radon, Radon testing, or the effects of Radon, please call for or check out the links below.
The EPA's Home Buyer's and Seller's Guide to Radon
The following video was for produced as a Canadian PSA.  Quality information nonetheless.